Welcome to the December Newsletter and
Firstly we'd like to say that we hope you have a great Christmas and New Year getting everything you want. Don't forget to get your furry friends a Christmas Present too
~~~~~~~~~~~~~~~~~~~~~~~~~~~~~~~~~~~~~~~~~~~~~~~~~~~~~~~~~~~~~~~~~~~~~~~~~~~~~~~~~~~~~~~~~
Remember we made a brief mention about our Patron last month? Well here is her official statement of support.
I am absolutely delighted to have been invited to be a Patron of Nick of Time. The work that Nick of Time does in providing both temporary and forever homes for animals- of all shapes and sizes-is absolutely vital and also an invaluable lifeline for our furry friends up and down the UK. These are hard times, and it is no secret that as people are increasingly unable to cope financially, they are abandoning their animals in ever increasing numbers. Speak to most Horse sanctuaries and you will find that they are full to capacity or very near to being so. Other animal sanctuaries are the same, so for Nick of Time to be finding homes for some of these animals is just wonderful and gives us all hope.

I know what a struggle it is to run a small charity. In Sept 2011 I set up Mane Chance Sanctuary, a safe haven for abandoned, neglected and abused horses. The work we are doing at the sanctuary, not only with the horses ( rehabilitating, re-homing and educating in equine welfare) but also with special needs and sick children and vulnerable adults interacting with the horses, is wonderful and inspiring and keeps me going during those long nights of worry and no sleep ! Trying to keep a small charity above water during a recession is probably one of the hardest things I have ever done in my entire life! So- good luck to the team at Nick of Time. We can all make a difference!

I very much hope that you will feel able to support the Nick of Time's Christmas appeal this year. All donations are gratefully received, however large or small- they all add up! Have a very happy Christmas and a caring, sharing 2013!

Jenny Seagrove.
Patron Nick of Time. Trustee Mane Chance Sanctuary.
for your support Jenny
~~~~~~~~~~~~~~~~~~~~~~~~~~~~~~~~~~~~~~~~~~~~~~~~~~~~~~~~~~~~~~~~~~~~~~~~~~~~~~~~~~~~~~~~~
Which is a great segway to remind you about our Christmas appeal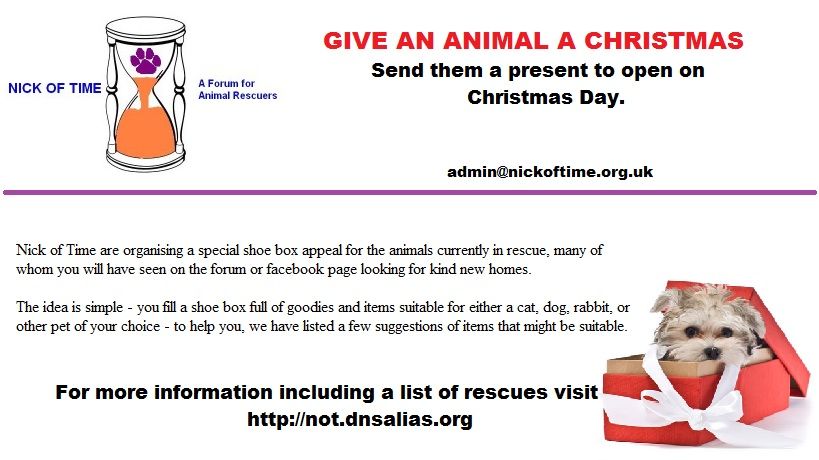 We have been notified about 81 boxes which are being sent, but there are still rescues who haven't had any boxes pledged to them. Please consider joining in. There is still time!
~~~~~~~~~~~~~~~~~~~~~~~~~~~~~~~~~~~~~~~~~~~~~~~~~~~~~~~~~~~~~~~~~~~~~~~~~~~~~~~~~~~~~~~~~
We'd also like to make a request due to the season. If you can spare some consider donating to a donkey sanctuary near you.
http://www.thebrooke.org/donate/components/adopt/adopt
http://www.donkeyrescueuk.org/
http://www.thedonkeysanctuary.org.uk/
This is just a selection of dedicated donkey sanctuaries, consider checking if any of your local rescues deal with donkeys.
~~~~~~~~~~~~~~~~~~~~~~~~~~~~~~~~~~~~~~~~~~~~~~~~~~~~~~~~~~~~~~~~~~~~~~~~~~~~~~~~~~~~~~~~~
It is time for us to say another huge
for your help over the last month. Did you know this month we helped nearly 30 animals? IN ONE MONTH! Here are some of the ways you helped.
* 12 Homechecks
* 2 animals into rescue (one of these animals then gave birth so 8 animals were saved in this case)
* 1 animal transported
* Trapped 6 kittens and 1 pregnant cats to get them into the safety of rescue
Without your help not even half of this would be possible. We do have to ask your help again, can you help with anything here?
Transport:
http://not.dnsalias.org/index.php/board,112.0.html
- there are 4 runs that needs help.
Fostering:
http://not.dnsalias.org/index.php/board,113.0.html
- There are 5 different foster requests pending.
ALSO IF YOU CAN FOSTER TAKE A LOOK HERE:
http://not.dnsalias.org/index.php/topic,2219.0.html
This is a list of rescues who need foster homes and where they are.
Homechecks:
http://not.dnsalias.org/index.php/board,114.0.html
- There are 3 homechecks pending
~~~~~~~~~~~~~~~~~~~~~~~~~~~~~~~~~~~~~~~~~~~~~~~~~~~~~~~~~~~~~~~~~~~~~~~~~~~~~~~~~~~~~~~~~
ANIMAL OF THE MONTH
This month we'd like to introduce you to
MISSY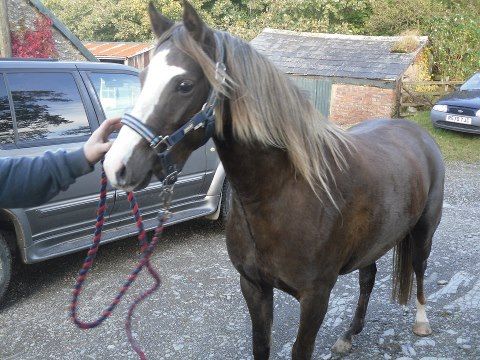 We helped get Missy INTO rescue so we'd like your help to now get her a new home. This is what the rescue says about her:
"She is a 3 year old liver chestnut w.p.b.r mare , slightly shy but very sweet. Shes doing brilliantly"
More information can be found here:
http://not.dnsalias.org/index.php/topic,3519.new.html#new
~~~~~~~~~~~~~~~~~~~~~~~~~~~~~~~~~~~~~~~~~~~~~~~~~~~~~~~~~~~~~~~~~~~~~~~~~~~~~~~~~~~~~~~~~
While we know Christmas can be a great happy time we'd like to give you some little warnings to ensure your pets stay safe and happy too.
Keeping your pets safe this Christmas: A few tips to remember over the holidays
Ensure they have a safe quiet place to go to when all those unexpected visitors turn up - the last thing you want to be doing is running up and down the street in the cold trying to get them back home.
Ensure all wrapping paper, string, sweet wrappers etc are safely thrown away in a secure bin.
Do not feed your pet sweets, excessive rich roods and NEVER give bones and scraps from the turkey - if you would like to treat your pooch, a few nice veggies, some tuna or meat scraps etc added to their dinner is the best option.
If you are out, unplug the Xmas tree lights, especially if you have a puppy or kitten who might pull over the tree.
Ensure you do not leave unattended glasses of alcohol on the floor - its just too tempting for your dog!
Watch for small items from the christmas crackers, if chewed and swallowed they may result in choking or vomitting.
If you have birds or rodents etc, move them to a quieter part of the house, away from party bussle and noises. Cover birds to minimise fright.
If you have pets outside, ensure you remember to top up their feed and water, and to cover them from cold and to minimise noises such as partying and fireworks.
Ensure you have your vets emergency opening hours pinned up where they are easily reachable.
It is as good a time as any to make sure your animal first aid kit is fully topped up.
~~~~~~~~~~~~~~~~~~~~~~~~~~~~~~~~~~~~~~~~~~~~~~~~~~~~~~~~~~~~~~~~~~~~~~~~~~~~~~~~~~~~~~~~~
Finally thank you again for being part of the site and for joining in each day. If you have any suggestions as always we're happy to listen.
The Nick Of Time Team